What is Blood Cancer?
Blood is the only transport system in the body. It flows through a person's arteries and veins and it carries oxygen and nutrients to the lungs and tissues. It carries away waste products by taking them to the kidneys and liver, which purifies the blood.
Blood cancer affects the production and function of the blood cells. This type of cancer starts in the blood cells, bone marrow and in the lymphatic system.
Blood Cells have four main components, such as:

Red Blood Cells – Red blood cells contain a protein called "hemoglobin" which carries oxygen to all the cells in the body and helps to remove carbon dioxide from the body.

Platelets – Platelets help to stop bleeding at the site of an injury.

White Blood Cells – White blood cells help to fight infection and disease.

Plasma – The liquid part of blood, called "plasma," is mainly water but it also includes proteins, hormones, vitamins, minerals, electrolytes and antibodies.

Bone marrow is a soft spongy tissue inside the bones and it contains stem cells. These stem cells in the bone marrow develop into blood cells. The process of blood cell formation is called "hematopoiesis." Healthy individuals have enough stem cells to keep producing new blood cells continuously. Blood flows through the bone marrow and picks up fully developed and functional red blood cells, white blood cells and platelets to circulate throughout the body.

The lymphatic system is part of the immune system, which helps to protect against disease and infection. The lymphatic system will include your spleen, thymus, lymph nodes and lymph channels. Lymphocytes are also found in other parts of the body including the skin, spleen, tonsils and adenoids, intestinal lining and the thymus.
There is a hope for cure through a bone marrow transplant or peripheral blood stem cell transplant. At present, transplantation of healthy stem cells donated by related and unrelated volunteers offers hope for many patients suffering from these deadly diseases.
What are the Types of Blood Cancer?
Blood cancers can be acute (severe and sudden onset) or chronic (the disease progresses slowly). Blood cancers affect people of all ages, races and genders. However, some types of blood cancers are common in children.
There are three major types of blood cancer:
Leukemia – cancer that is found in your blood and bone marrow. (when white blood cells are overproduced)

Lymphoma – a blood cancer that affects the lymphatic system.

Myeloma – a blood cancer that specifically targets your plasma cells. (when plasma are overproduced)
What are the Treatment options for Blood Cancer?
Treatment for blood cancer depends on the type of cancer, your age, how fast the cancer is progressing, where cancer has spread and other factors. Some common blood cancer treatments include:
Bone Marrow Transplant: A stem cell transplant infuses healthy blood-forming stem cells into the body. Stem cells may be collected from the bone marrow, circulating blood and umbilical cord blood.
Chemotherapy: Chemotherapy uses anticancer drugs to interfere with and stop the growth of cancer cells in the body. Chemotherapy for blood cancer sometimes involves giving several drugs together in a set regimen. This treatment may also be given before a stem cell transplant.
Radiotherapy: Radiotherapy may be used to destroy cancer cells or to relieve pain or discomfort. It may also be given before a stem cell transplant.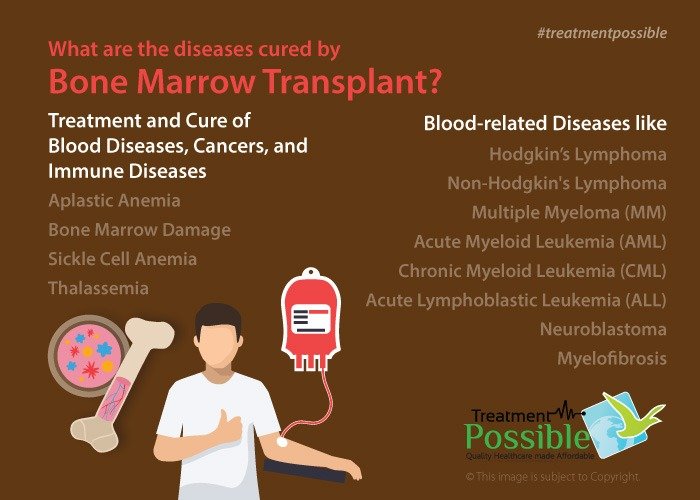 What is the Blood Cancer Treatment Cost in India?
The cost of blood cancer treatment in India starts from $5000 and can go upto $50000 if bone marrow transplant is used as a treatment option. The treatment cost of blood cancer is still 80% – 90% cheaper than western countries as the cost of infrastructure, medical equipment & medications in India is low while still providing excellent medical services at an affordable cost.
The table below gives a detailed information about the cost of blood cancer treatment in India:
PET Scan

Chemotherapy

Radiation Therapy

Immunotherapy

Bone Marrow Transplant
What is the Success Rate of Blood Cancer Treatment?
With the advancements in technology, the overall mortality rate due to blood cancer has been descending by 1% every year. There has been a 60% survival rate in case of leukemia patients. This includes people of all ages. A better alternative would be to join clinical trials that bring into light the latest developments in the treatment of cancer which will help you achieve the desired results, in a faster manner.
How can you Prepare yourself for the Blood Cancer Treatment?
The first and foremost thing that you need to do is keep yourself well informed about your cancer, this improves your quality of life as this can make the disease seem less mysterious and frightening. Information from your doctor and other credible sources can be very helpful in this respect.

When a person is diagnosed with cancer it has an adverse effect on their emotional state, so you need to prepare yourself mentally and emotionally. This can be done by being transparent with your family and friends about how you feel the problems you have been facing so they can help you better. And as a friend or a family member of the patient, you must support them at all times by listening to them patiently as they are emotionally low.

You can avail services of a counsellor or attend group therapies consisting of people sharing their past experiences of cancer.

Writing down about your queries, problems, new symptoms, any physical changes, medications, past medical reports and other important things will help you to clearly express yourself to the doctor.

You may be asked to quit smoking and drinking before the treatment starts. Red meat consumption is prohibited too.
Note:
The treatment plan that the doctor comes up with depends upon several factors such as the type of blood cancer the patient has been diagnosed with, the stage of cancer the patient is in and the age as well as the overall health of the patient.
How do we help in your Blood Cancer Treatment? 
We have been guiding patients for more than a decade for their treatment in India thus, we recognize the significance of excellent health and well being of our guests by preferring association with top blood cancer oncologists and the best hospitals for cancer treatment in India. At Treatment Possible, our main objective is to provide the best options for the treatment of blood cancer in India at the lowest cost. We encourage you to educate yourself about blood cancer i.e the types, diagnosis, treatment options, procedure, cost of treatment in India and then make an informed decision. An individually allocated case manager takes personalized interest to design a tailor-made treatment plan for every guest i.e the cost of treatment, accommodation, medicines and other miscellaneous things.
For an early response from a case manager, medical history and diagnostic reports can be sent to care@treatmentpossible.com. Treatment Possible invites you for online consultation with a blood cancer oncologist in India with the assurance of hassle-free arrangements for examinations, procedures, recovery, travel and stay.
From Treatment To Recovery, We Are Always There With You!

Medical Visa Letter
We provide a Medical visa letter for which we require the scanned passport copies of the patient and attendant.
Arrange An Appointment With A Surgeon
We arrange for the appointment with the surgeon, confirm for the hospital room and operation theatre (if required)
Post Surgery Follow Up
We help you to fix your telephonic appointment for future follow-ups
Complimentary Pickup
We arrange for complimentary pickup and drop services from the airport.

All The Necessary Arrangements
We arrange for hospital admission, forex exchange, sim card and local assistance
No Need To Worry About Essential Expenses!
We help in sorting out the hospital bill, return ticket, medicines and other essential purchases.