What is Brachytherapy?
Brachytherapy is a new type of treatment that helps treat cancers and tumors found in various parts of the body like prostate cancer, skin, breast, cervix, and others. It is, in essence, radiotherapy that involves the placement of a radioactive substance into the body part that has developed a tumor or cancer. Also known as the internal radiation therapy or HDR Brachytherapy (High Dose Rate Brachytherapy), this allows a doctor to place a large amount of radioactive substance in the body to cure the ailment in a short amount of time. The brachytherapy success rate is also high.
Brachytherapy for Cervical Cancer 
Radiation therapy is effective for Cervical Cancer Treatment. Radiation treatment for cervical cancer involves both Brachytherapy and External Beam Radiation Therapy. Brachytherapy for cervical cancer treatment is highly critical and effective.
In Brachytherapy radioactive substance is placed directly on cancer or the part/organ that has cancer. It ensures that radiation does not damage healthy tissues and cell around the cancerous region. In the case of Cervical cancer risk to surrounding organs such as bowels, bladder and rectum are reduced to a large extent. Thus, Brachytherapy increases the chance of cure with minimum damage to healthy tissues. In some cases of Cervical cancer, Brachytherapy is the only curative treatment.
In India, we have cancer hospitals that have a High Dose Rate (HDR) Brachytherapy. HDR delivers brachytherapy in a short time compared to Low Dose Rate. The team involves Radiation Oncologist, physicist, a therapist specializing in Brachytherapy, radiologist, and anesthesia. The procedure is carried out in Operation Theatre or Brachytherapy Suit assigned only for this procedure. For cervical cancer treatment, its always recommended that a patient undergoes treatment in a center that has External Beam Radiation, Brachytherapy, and PET scan. As complete Radiation and Nuclear medicine infrastructure are essential for complete treatment.
Before the brachytherapy procedure, Radiation Oncologist plans the treatment and dose of radioactive material depending on the type and size of cancer or tumor. This planning is precise using advanced technology at disposal to avoid mistakes. Post-procedure the patient is kept in the hospital for a day under observation. A patient will need multiple sessions depending on clinical need.
We have had patients from Africa, Middle East, Western countries as well as from Australia. Reason being that we provide the most advanced Brachytherapy treatment under careful planning. But the cost in India is less than half which makes it affordable to patients especially when they need multiple sessions. Post-treatment also we have regular follow sessions with our patients.
Brachytherapy Treatment for Aussies
Aussies can get the best brachytherapy treatment in India at just 800 – 950 AUD per session through Treatment Possible. People from Australia, cities including Sydney, Melbourne, Adelaide, Brisbane, Perth, Canberra, and other places can all avail of this rate. There are Aussies from New South Wales, Victoria, Queensland, and Tasmania getting successfully treated in India for brachytherapy.
Types of Brachytherapy 
There are two types of brachytherapy namely temporary brachytherapy and permanent brachytherapy.
Temporary brachytherapy: It involves placing a highly radioactive substance inside a slender tube for a specified amount of time. This is later taken out. Since the placement is highly specific, hence there is no damage to the nearby healthy cells and tissues.

Permanent brachytherapy: It involves the implantation of a seed made of radioactive substance next to the tumor and is left there for several months. The radioactive substance shows its effects and in few months loses its radioactive property. These seeds are left in the patient's body even after they have done their work. These have no side effects.
The radioactive substance placed in a capsule or a wire only allows the radiations to come out and kill the tissues and cells in the surrounding tumors but do not let the substance to get dissolved in the body fluids.
Brachytherapy Procedure
There are a few preparatory measures taken prior to brachytherapy that is advised by the doctor. Some of them include:
CT scan, MRI, or an ultrasound.
X-rays
Blood Tests
Also, in the case of brachytherapy for cervical cancer, the doctors will do a minor mapping of the area in which the implant has to be placed before starting the treatment. The other special instructions will be provided by the physician depending on the region where the tumor is present.
What to Expect After Brachytherapy?
HDR Brachytherapy is a non-invasive treatment and does not require any amount of operative measures to be taken. Also, there are very little side effects associated with it. Hence, there will not be any noticeable changes after the treatment. The doctors will run a checkup to see the condition of the tumor and how much has it healed.
The follow-up visits are very important since they will be the ones deciding whether the treatment has worked or not. It is also important to determine whether the cancer is not spreading to other places in the body.
Results of Brachytherapy 
Brachytherapy is the most effective cancer treatment since it targets the specific place and the cells, therefore, giving it the highest brachytherapy success rate. This is true for people undergoing brachytherapy for uterine cancer and brachytherapy for prostate cancer treatment. In most cases, the patients in the initial stages of their cancer get easily cured with brachytherapy. However, the people in the later stages of cancer need to combine brachytherapy with the other types of treatments to completely heal.
For an early response from a case manager, Medical History and Diagnostic Reports can be sent to care@treatmentpossible.com.  About almost for a decade, Treatment Possible has been doing and so assures you with wonderful experience along with Expertise of Medical Tourism in India. Treatment Possible invites you for a Free Consultation with the chosen Top Cancer specialist in India with the assurance of hassle-free arrangements for examinations, procedures, recovery, travel, and stay.
From Treatment To Recovery, We Are Always There With You!

Medical Visa Letter
We provide a Medical visa letter for which we require the scanned passport copies of the patient and attendant.
Arrange An Appointment With A Surgeon
We arrange for the appointment with the surgeon, confirm for the hospital room and operation theatre (if required)
Post Surgery Follow Up
We help you to fix your telephonic appointment for future follow-ups
Complimentary Pickup
We arrange for complimentary pickup and drop services from the airport.

All The Necessary Arrangements
We arrange for hospital admission, forex exchange, sim card and local assistance
No Need To Worry About Essential Expenses!
We help in sorting out the hospital bill, return ticket, medicines and other essential purchases.
Best Hospitals For Brachytherapy In India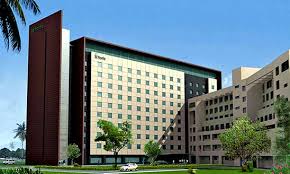 Fortis Hospital - Mulund, Mumbai
Fortis Hospital, Mulund is a 5 times JCI accredited, 315-bed multi-speciality tertiary care hospital providing a range of diagnostic and treatment services. This hospital has achieved three times JCI accreditation (quality as per international standards) and NABH Accreditation (quality standards specified across India) and the best Orthopaedic Hospital (Indian Healthcare Awards 2011).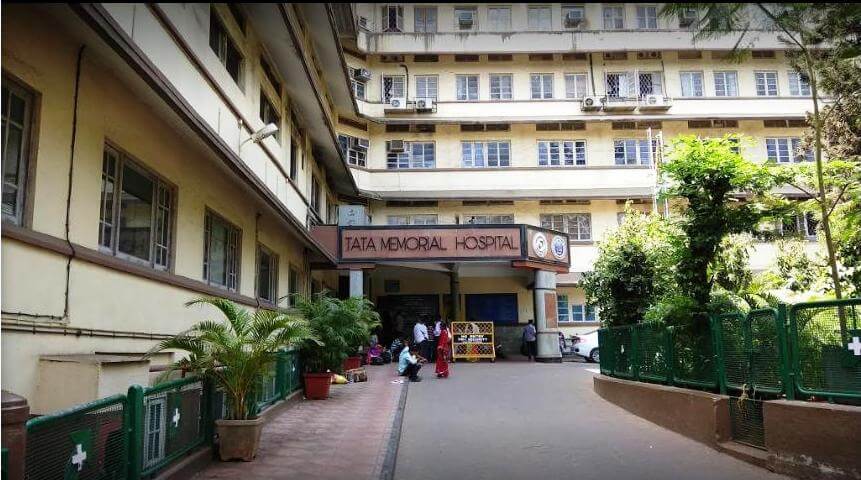 Tata Memorial Hospital - Mumbai
Tata Memorial Centre (TMC) is a comprehensive tertiary care centre for cancer in India. Established by the House of Tatas in the year 1941. It is a specialist cancer treatment and research centre, closely associated with the Advanced Centre for Treatment, Research and Education in Cancer (ACTREC). The Centre is the national comprehensive cancer centre for the prevention, treatment, education and research in cancer and is recognized as one of the leading cancer centres in this part of the world.
MPCT is the second-largest multi-speciality hospital with 100 beds in Navi Mumbai. MPCT hospital has the most advanced PET Scan of GE, which is used for diagnosis and treatment of cancer. The hospital offers the most advanced linear accelerator of the world called as true beam for the treatment of cancer. The hospital has special software and hardware for treatment of cancer and it has software to treat the smallest brain tumors. It has 24 Channel brachytherapy for the treatment of cervical cancer & breast cancer.
Medanta Medcity Hospital - Gurgaon
Medanta – The Medicity Hospital, Gurgaon is established in 2008 and it is a NABH and JCI accredited facility. Medanta Hospital was founded by a renowned Cardiovascular and Cardiothoracic surgeon, Dr Naresh Trehan and is both NABH and NABL accredited. It is the first hospital in the country that offers Robotic Surgeries in Cardiology, Urology and Gynaecology. It is also Awarded as the Best Multispecialty Hospital by Asia's First Bloodless Bone Marrow Transplant HealthCare Global Enterprises (HCG) in 2010.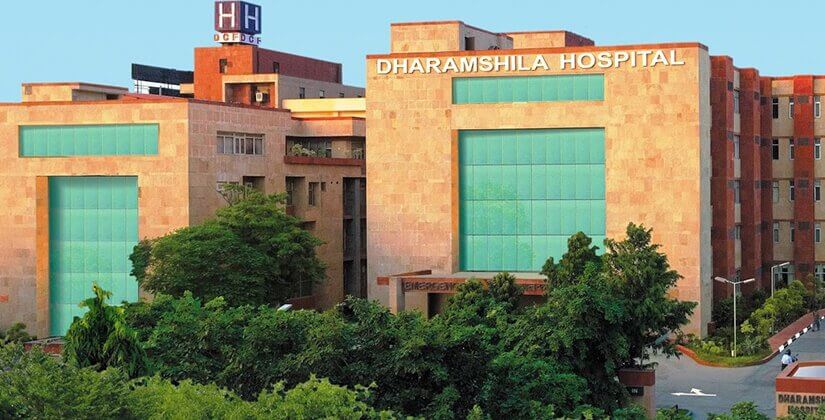 Medanta Medcity Hospital - Gurgaon
Dharamshila Narayana Superspeciality Hospital was established in 1994 and this is accredited by NABH and NABL. It is India's first and world′s 11th hospital which has performed Haploidentical Bone Marrow Transplantation in an adult sickle cell disease patient. This is the Only hospital in Delhi that offers Third Generation Radiation Technology i.e. Elekta Synergy VMAT with IMRT, IGRT, SBRT and SRS / SRT and Respiratory Gating Capabilities and best Treatment Planning systems like Monaco, CMSxi0, ERGO++ and Plato.