Verified By: Dr. Akhil Tawari (MBBS, MS (Orthopedics), DNB (Orthopedics), and D-Ortho)
What is Kyphoplasty? 
Kyphoplasty is a type of spine surgery that is used to treat the fracture of the spine. The procedure involves injecting cement into the vertebrae to heal it and increase stability. The difference between kyphoplasty vs vertebroplasty is that unlike vertebroplasty, kyphoplasty uses a balloon to create a cavity. It is a minimally invasive procedure that is very effective in reducing back pain, making sure that there is no further collapse of the fractured spine. 
In addition to this, the Kyphoplasty procedure is done for making the alignments and postures even better than before. The spine is a very delicate set of bones that are stacked on top of each other attached to discs. In the case of an injury or a sudden jerk, it is very common to break or damage the vertebrae or the vertebral disc. Since the vertebrae are attached to each other, a fracture in one of them can lead to the ineffectiveness of the others as well.
The spinal canal also has spinal nerves that are responsible for sending and receiving signals to and from the brain. The fracture can possibly damage these nerves as well as cause other deformities in the body. Hence surgical treatments are opted for. This gives the best kyphoplasty success rate.
How is Kyphoplasty Performed?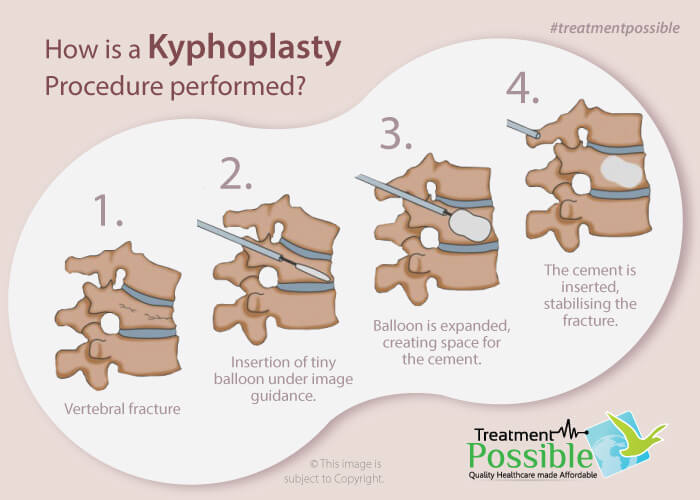 Kyphoplasty is sometimes referred to as balloon vertebroplasty. Kyphoplasty is performed under local or general anesthesia.  Kyphoplasty involves a cement injection into the broken vertebra to hold it in. It can correct spinal deformity and restore a damaged vertebra's height. The Kyphoplasty procedure takes about an hour for each vertebra that needs to be fixed and you need to lie down on your stomach and the surgeon inserts a hollow needle into your skin. 
Step 1 – A small incision is made at the place of the fracture and a narrow tube is inserted through that incision to dilate and separate the muscles. Fluoroscopy is used as a guiding technique to create a well-lit path for the surgeon.
Step 2 – The surgeon now inserts a balloon into the tube that gets into the vertebrae. 
Step 3 – This balloon is then inflated and this elevates the fractured vertebrae. The fractured bone or fractured vertebra is returned to its normal position. 
Step 4 – The balloon is then removed and an injection is used to fill the cavity with some cement-like material. This material is known as PMMA. After this, the incision is stitched back to normal.
*Smokers have to quit smoking at least a month before the surgery or they may encounter kyphoplasty complications or patient post-surgical complications.
What are the Benefits of Kyphoplasty Surgery?
The results of Kyphoplasty are mostly positive and are very effective. The kyphoplasty recovery time is short and also helps improve alignment in the patient.
It is a minimally invasive procedure (small incisions and a fast recovery).

Short hospital stay (sometimes outpatient).

Most patients experience immediate pain relief.

Quickly able to return to normal daily activities.

No bracing is required.

Future spinal fracture may be avoided.

By stabilizing the fractured vertebra, the onset or worsening of severe spinal deformity is prevented.
How to Prepare for a Kyphoplasty Surgery?
Certain pre-surgical tests such as MRI, CT scan and X-Rays are done on the patient to accurately determine the area of the fracture and the severity of the injury. The patient should be informed of general surgical risks and kyphoplasty precautions. Some patients who have osteoporosis or any other serious medical condition are not eligible for this treatment. In addition to this, smokers have to quit smoking at least a month before the surgery or they may encounter kyphoplasty complications or patient post-surgical complications.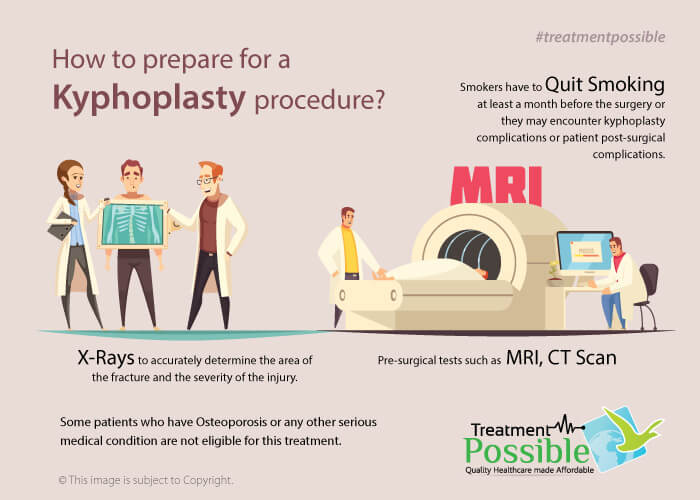 Who are not Eligible for Kyphoplasty?
Kyphoplasty is 

not

used for 

herniated disks

 or arthritic back pain.

This is 

not

generally recommended for younger patients, but it is recommended for elderly patients or those with osteoporosis.

kyphoplasty is 

not

used to correct an osteoporosis-induced curvature of the spine, but it may keep the curvature from worsening if it is due to a recent fracture.

This is 

not

ideal for someone with lung disease because it may be difficult for such individuals to lie facedown for one to two hours.

kyphoplasty is 

not

for patients with a healed (chronic) vertebral fracture.

kyphoplasty is 

not appropriate for patients with young healthy bones or those

who have suffered a fractured vertebra in an accident.

This is 

not

suitable for patients with spinal curvature such as 

scoliosis

.

Kyphoplasty is

not applicable for patients who suffer from spinal stenosis or herniated disk with nerve or spinal cord compression and loss of neurologic function.
Kyphoplasty Surgery at Treatment Possible:
Treatment Possible is associated with Top Spine Surgeon in India who are specialized in Kyphoplasty surgery. We work with the best spine surgery hospital in India that are equipped with OT that are compatible for complex spine surgeries. Treatment Possible also associate with the best spine specialist in India who are experienced in operating complex Kyphoplasty surgeries.
The spine surgery cost in India ranges from USD 3000-5000, excluding the spine implant cost in India. The spine surgery cost in India through Treatment Possible can be 10-20% lower than similar hospitals in India and 50-60% cheaper in other countries. Treatment Possible ensures the best spine hospitals in India while guaranteeing the best yet affordable surgery cost. Our understanding of the Indian Medical Services, Healthcare market and our valued relations with the best spine surgeon in India enables us to provide the spine surgery in India at a price that is reasonable, affordable and transparent. 
Get Free Consultation with the Top 10  Spine Surgeon in India with the hassle-free setup of post-operative recovery care, medical travel & stay during the medical treatment. You can also send your medical reports for Kyphoplasty Surgery to care@treatmentpossible.com for free opinions and suggestions from the India best spine surgeon. No matter what the health condition, you always get good healthcare options and cost advantage from Treatment Possible!
From Treatment To Recovery, We Are Always There With You!

Medical Visa Letter
We provide a Medical visa letter for which we require the scanned passport copies of the patient and attendant.
Arrange An Appointment With A Surgeon
We arrange for the appointment with the surgeon, confirm for the hospital room and operation theatre (if required)
Post Surgery Follow Up
We help you to fix your telephonic appointment for future follow-ups
Complimentary Pickup
We arrange for complimentary pickup and drop services from the airport.

All The Necessary Arrangements
We arrange for hospital admission, forex exchange, sim card and local assistance
No Need To Worry About Essential Expenses!
We help in sorting out the hospital bill, return ticket, medicines and other essential purchases.
Frequently Asked Questions: 
Q1. What is the difference between a Vertebroplasty and Kyphoplasty?
kyphoplasty and vertebroplasty are minimally invasive procedures that are often performed together. In vertebroplasty, a doctor injects a cement mixture into the bone to give it strength.
During Kyphoplasty, a doctor inserts and inflates a balloon to create an opening for the mixture. The balloon is removed after the cement is injected. Kyphoplasty is also known as balloon vertebroplasty.
Q2. How long does it take to resume normal activities after Kyphoplasty?
You will be discharged from the hospital after 24-48 hours. You may feel some soreness where the needle entered your back, but it may only for a few days. You can resume daily activities after 2 weeks but you still need to avoid heavy duty activities and can only resume that after 6 weeks.
Q3. Is a kyphoplasty safe?
Kyphoplasty is safe with 70% reduced back pain and 60% improvement in quality of life. In some case it may lead to some complications.
Q4. Who is a Suitable Candidate for Kyphoplasty?
These procedures can be effective in treating people whose bones are weakened by cancer or whose vertebrae collapse due to osteoporosis, a disease that causes loss of bone density. They are usually not advisable for herniated disks, back arthritis, or curvature of the spine due to scoliosis. The procedure should be completed within 8 weeks of when the fracture occurs for the highest probability of restoring height.