Esophagus Cancer Treatment In India:
Esophageal cancer is a type of cancer which affects the tube running from the throat to the stomach (esophagus). Esophageal cancer treatment is now made possible through advanced technology. While the treatment options are many, the treatment plan given to you would depend upon the stage of cancer you are in and how far cancer has spread in your body. Your overall health will also matter when it comes to choosing from the treatment options.
While certain cases can be treated with endoscopic treatments, others may require esophagectomy, where a part of the esophagus would have to be removed. In some cases, chemoradiation therapy may be advised instead of surgery. Esophagus cancer treatment success rate varies from person to person. Follow-up care will be recommended to make sure there are no recurrences of cancer.
Note:
Nevertheless, these side effects are temporary and will disappear within a few days. It is still highly advised to get treatment as early as possible.
What are the Treatment Options for Esophagus Cancer?
Esophagus cancer treatment is based on the type of cancer, your stage of cancer and your overall health. Surgery is recommended if cancer has not spread to other parts of your body. chemotherapy or radiation therapy is done to shrink tumors in the esophagus so that they can then be removed more easily with surgery.
Surgery
Surgery to remove very small tumors – If the cancer is small and hasn't spread, your doctor can remove the tumor using a minimally invasive approach, using an endoscope and several small incisions.

Surgery to remove a portion of the esophagus (esophagectomy) – In the standard approach, the surgeon operates through a larger incision to remove a portion of the esophagus and sometimes the lymph nodes around it. The tube is reconstructed using tissue from the stomach or the large intestine.

Surgery to remove part of your esophagus and the upper portion of your stomach (esophagogastrectomy) – In severe cases, a portion of the top of the stomach may be removed as well.
The risks of surgery include pain, bleeding, leaking in the area where the rebuilt esophagus is attached to the stomach, lung complications, difficulty in swallowing, nausea and heartburn.
Chemotherapy:
Chemotherapy drugs are used to destroy cancer cells and are used before or after the surgery. At times it accompanies the use of radiation therapy. In people with advanced cancer that has spread beyond the esophagus, chemotherapy is used to relieve the signs and symptoms caused by cancer.
Depending on the chemotherapy drugs you receive, chemotherapy will have a number of side effects. These side effects include hair loss, nausea, vomiting, fatigue, pain and neuropathy.
Radiotherapy
Radiotherapy uses high energy beams of radiation to kill cancer cells. The radiation may be delivered by external-beam radiation therapy, or an internal radiation therapy, which is a device placed near the tumor and is also called brachytherapy).
Radiation is often combined with chemotherapy treatments, and the side effects of radiation include skin that looks sunburnt, fatigue, painful ulcers in the lining of the esophagus and esophageal stricture, where the tissue becomes less flexible and causes the esophagus to narrow resulting in pain and difficulty in swallowing.
Targeted drug therapy
Targeted drug treatment focuses on specific abnormalities present within the cancer cells.
Targeted drug treatments block these abnormalities and destroy cancer cells.

Targeted Therapy drugs are reserved for people with advanced or recurrent cancer.
Immunotherapy
Immunotherapy uses your immune system to fight cancer, but your immune system may not attack the cancer cells because the cancer cells produce proteins that help them to hide from the immune system. Immunotherapy works by interfering with that process.
Immunotherapy treatments are reserved only for people with advanced esophageal cancers, recurrent cancer and cancers that have spread to other parts of the body.
Other treatments for esophageal obstruction:
If your esophagus is obstructed as a result of cancer, your doctor may be able to implant a stent (a tube made of metal) into your esophagus to keep it open. A surgeon uses an endoscope and special tools to place a metal tube (stent) to keep the esophagus open.

They will also be able to use photodynamic therapy; this involves injecting the tumor with a photosensitive drug that attacks the tumor when exposed to light.
Your doctor may recommend a feeding tube if you are having trouble swallowing or if you underwent an esophagus surgery. A feeding tube will allow nutrition to be delivered directly to your stomach or small intestine, which gives your esophagus time to heal after treatment.
How can you Prepare yourself for the Esophagus Cancer Treatment?
The first and foremost thing that you need to do is keep yourself well informed about your cancer, this improves your quality of life as this can make the disease seem less mysterious and frightening. Information from your doctor and other credible sources can be very helpful in this respect.

When a person is diagnosed with cancer it has an adverse effect on their emotional state, so you need to prepare yourself mentally and emotionally. This can be done by being transparent with your family and friends about how you feel the problems you have been facing so they can help you better. And as a friend or a family member of the patient, it is necessary that you support them at all times by listening to them patiently as they are emotionally low.

You can avail services of a counsellor or attend group therapies consisting of people sharing their past experiences of cancer.

Writing down about your queries, problems, new symptoms, any physical changes, medications, past medical reports and other important things will help you to clearly express yourself to the doctor.
The checklist given below will help you to plan your treatment in India:
What can you expect after Esophagus Cancer Treatment?
Those who have been diagnosed in the early stages of esophageal cancer will reap the complete benefits of the treatment. With proper follow-up care and lifestyle changes such as adding fresh vegetables and fruits, stopping the consumption of red meat, quit smoking and drinking, this will help you to find relief from the symptoms and control the recurrence of your esophageal cancer. Most importantly you will need to develop a positive attitude to beat this difficult phase of life and you will require adequate rest before you can lead a normal life.
What is the Cost of Esophagus Cancer Treatment in India?
Treatment in India is one-third the cost of western countries like the USA and Unites Kingdom and hence India is one of the leading countries as a preferred destination for medical treatments. Due to our long-standing association with hospitals, we ensure the treatment of esophageal cancer at an affordable cost, this includes both diagnosis and treatment.
The table below shows the detailed cost estimate for the treatment of Esophageal cancer in India:
| PET Scan | Chemotherapy* | Radiation Therapy* | Immunotherapy* | Surgery* |
| --- | --- | --- | --- | --- |
| | | | | |
Please Note:
The average cost of treatment can increase or decrease depending on the treatment plan used.
When planning for treatment in India you also need to consider additional costs such as hotel stay, food, etc but we provide you with service apartments at low cost and also ensure you in finding out the best hospital for lung cancer treatment in India at the lowest cost for diagnosis and treatment.
How do we help in your Esophagus Cancer Treatment?
At Treatment Possible, our main objective is to provide the best options in India for your treatment of Esophageal cancer at the lowest cost. We have been helping patients for their treatment in India for more than a decade, thus, we recognize the significance of excellent health and well being of our guests by preferring association with the best oncologists and Hospitals. An individually allocated case manager takes personalized interest to design a tailor-made treatment plan for every guest and provide information about the cost of the Esophageal cancer treatment in India, travel and stay within a specific time. We ensure that you get treatment in the best hospital in India at an affordable cost, we also help you in finding hotels/service apartments for a stay in India at an affordable price & provide you medicines (prescribed by the doctor) at a discounted rate after your treatment.  
Before undergoing treatment we encourage you to educate yourself about Esophageal cancer, treatment options for Esophageal cancer, treatment procedure, cost of treatment in India and then make an informed decision. For an early response from a case manager, Medical History and Diagnostic Reports can be sent to care@treatmentpossible.com.
Treatment Possible invites you for a Consultation with Best Oncologist for Esophageal Cancer treatment in India with the assurance of hassle-free arrangements for examinations, procedures, recovery, travel and stay.
From Treatment To Recovery, We Are Always There With You!

Medical Visa Letter
We provide a Medical visa letter for which we require the scanned passport copies of the patient and attendant.
Arrange An Appointment With A Surgeon
We arrange for the appointment with the surgeon, confirm for the hospital room and operation theatre (if required)
Post Surgery Follow Up
We help you to fix your telephonic appointment for future follow-ups
Complimentary Pickup
We arrange for complimentary pickup and drop services from the airport.

All The Necessary Arrangements
We arrange for hospital admission, forex exchange, sim card and local assistance
No Need To Worry About Essential Expenses!
We help in sorting out the hospital bill, return ticket, medicines and other essential purchases.
Frequently Asked Questions:
What is Esophagus Cancer?
Esophagus cancer is a type of cancer which affects the tube running from the throat to the stomach (esophagus). While the treatment options are many, the treatment plan given to you would depend upon the stage of cancer you are in and how far cancer has spread in your body. Your overall health will also matter when it comes to choosing from the treatment options. In some cases, chemoradiation may be advised instead of surgery. 
What is the cost of Esophagus cancer treatment?
We ensure treatment through most advanced LINAC i.e. TrueBeam. Cost of PET Scan is USD 250, Chemotherapy per cycle USD 480 to 680 USD, Radiation Treatment USD 2800 – 3400, Surgery cost would be 4800 USD – 5800 USD.
What are the Symptoms of Esophagus cancer?
Difficulty and pain while swallowing, even liquid may be painful to swallow, Pressure or burning in the chest, Indigestion or heartburn, Vomiting, Unexplained weight loss, Coughing or hoarseness.
What are the stages of Esophagus Cancer?
Stage 0 (High-grade Dysplasia)
Stage I squamous cell carcinoma of the esophagus.
Stage II squamous cell carcinoma of the esophagus.
Stage III squamous cell carcinoma of the esophagus.
Stage IV squamous cell carcinoma of the esophagus.
What are the treatment options for Stage 0 Esophagus Cancer?
The treatment plan would include endoscopic treatments such as:
Photodynamic therapy (PDT)
Radiofrequency ablation (RFA)
Endoscopic mucosal resection (EMR)
What are the side effects of Esophagus cancer?
The Esophageal cancer treatment surgery side effects may include bleeding, infection, swelling or leakage. If the patient has been advised to undergo chemoradiation, he/she may face side effects such as Hair loss, Indigestion, Fatigue, Vomiting, Skin irritation, difficulty while swallowing food. 
Is Esophageal cancer curable?
Esophageal cancer may not be cured completely unless you were diagnosed in the very early stages. However, with proper follow-ups and some lifestyle changes, you can find relief from the symptoms and control the recurrence of your cancer. You may require adequate rest before you can lead a normal life.
Best Hospitals For Esophageal Cancer Treatment In India
It is never easy to deal with cancer news, let alone the dilemma of finding the right doctor and treatment course. But rest assured fighting against Esophageal Cancer is possible! 
The list of the Best Hospital for Esophageal cancer treatment in India are: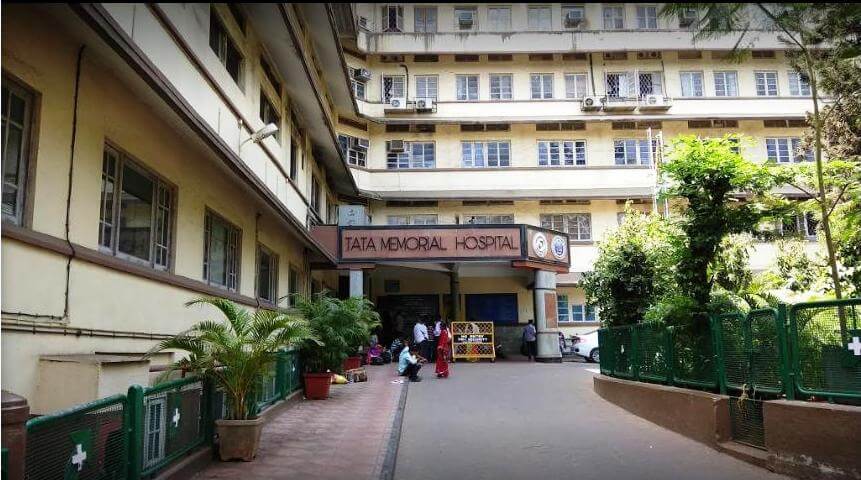 Tata Memorial Hospital - Mumbai
Tata Memorial Centre (TMC) is a comprehensive tertiary care centre for cancer in India. Established by the House of Tatas in the year 1941. It is a specialist cancer treatment and research centre, closely associated with the Advanced Centre for Treatment, Research and Education in Cancer (ACTREC). The Centre is the national comprehensive cancer centre for the prevention, treatment, education and research in cancer and is recognized as one of the leading cancer centres in this part of the world.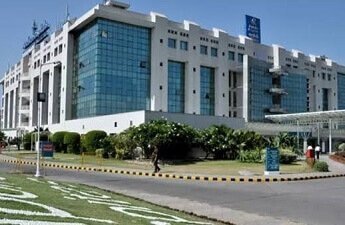 Apollo Hospitals - Chennai
The leading hospital of the Apollo Group was built up in 1983. The hospital has more than 60 divisions initiated by universally prepared specialists, the best-in-class hospital for different wellbeing issue and forefront therapeutic strategies, that makes it the most favoured goals for patients across India and around the world.
MPCT is the second-largest multi-speciality hospital with 100 beds in Navi Mumbai. MPCT hospital has the most advanced PET Scan of GE, which is used for diagnosis and treatment of cancer. The hospital offers the most advanced linear accelerator of the world called as true beam for the treatment of cancer. The hospital has special software and hardware for treatment of cancer and it has software to treat the smallest brain tumors. It has 24 Channel brachytherapy for the treatment of cervical cancer & breast cancer.
Medanta Medcity Hospital - Gurgaon
Medanta – The Medicity Hospital, Gurgaon is established in 2008 and it is a NABH and JCI accredited facility. Medanta Hospital was founded by a renowned Cardiovascular and Cardiothoracic surgeon, Dr Naresh Trehan and is both NABH and NABL accredited. It is the first hospital in the country that offers Robotic Surgeries in Cardiology, Urology and Gynaecology. It is also Awarded as the Best Multispecialty Hospital by Asia's First Bloodless Bone Marrow Transplant HealthCare Global Enterprises (HCG) in 2010.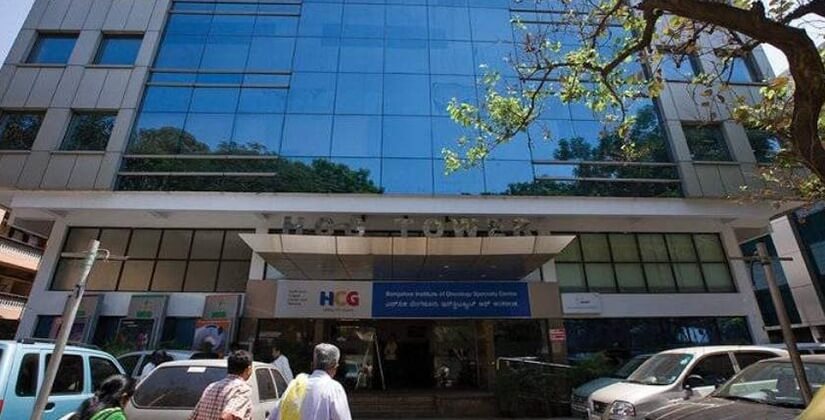 Healthcare Global Enterprises Ltd (HCG) - Bangalore:
Healthcare Global Enterprises Ltd (HCG) was the First Cancer Centre in India to introduce Cyclotron and PET-CT technologies. The diagnostic facility at HCG Cancer Centre Bangalore is equipped with state-of-the-art imaging technologies like 3T MRI, PET-CT and SPECT. At HCG Bangalore, surgery has moved from a more radical approach towards organ preservation, shorter hospital stays and minimally invasive robotic surgeries.