Verified By: Dr. Donald John Babu (MBBS, MS, FCPS, MCh – Surgical Oncology, MRCS (UK), FICS) |Updated On March 4, 2020
Brain Tumor Treatment:
Brain tumors detected early can be cured completely through proper brain tumor treatment. Nevertheless, even if diagnosed in advanced stages of brain tumor, treatment can help in reducing the size of the tumor and delay its progress, thereby increasing the lifespan of the patient. There are newer advanced technology treatments being discovered every year to treat brain cancer in the best way possible.
What is Brain Tumor Surgery Cost In India?
Due to our long-standing association, we are able to ensure the best neurosurgery hospital in India at the lowest cost for our patients for brain cancer diagnosis. We ensure best neuro surgery in India through most advanced LINAC i.e. TrueBeam from the best neurosurgery hospital in India. At the same time, our costs are the lowest in India.
What Factors are Considered before the Brain Tumor Surgery?
Many things are considered before coming up with the right treatment plan for brain tumor surgery. Here are a few such factors:
The type of tumor, its grade, and size
The kind of pressure that the tumor has been putting on the other parts of the brain
The way the tumor has spread
The side effects of the brain cancer treatment option
The overall health of the patient
The preferences of the patient
Different types of brain tumor grow at different places. Depending on how fast or slow your tumor is growing, your doctor may advise you when your treatment should ideally start.
Can Brain Tumor be cured? 
Yes Absolutely! Brain Tumor can be cured. That's what we're here for.
What are the Treatment Options?
There are various cures for brain cancer. Here are the treatment options:
Surgery
Neuro Surgery in India aims at removing the tumor along with a few healthy tissues surrounding the same. This treatment option can considerably improve your neurological symptoms, making the other treatment options more effectively.
The traditional brain surgery, also known as a craniotomy, involved the removal of a portion of the skull to remove the tumor. The opening in the skull would then be covered using the patient's own bone. In recent years, there has been a lot of advancement in brain tumor surgery, making it as minimally invasive as possible. Nowadays, doctors make use of cortical mapping and image-guided techniques to perfectly map the location of the tumor and perform the surgery after meticulous planning.
Apart from removing the tumor, brain tumor surgery in India also provides a tissue sample for the sake of biopsy analysis. This can help in determining whether the surgery needs to be followed by chemotherapy or radiation or not.
In cases where the tumor is located in such a place that cannot be accessed easily, surgery can't be performed. So, the doctor might recommend alternative treatment options that will reduce the size of the tumor and slow down its growth.
Chemotherapy for Brain Tumor
Chemotherapy uses drugs which are usually given intravenously to destroy cancerous cells in the brain. These drugs are given either intravenously or orally. Chemotherapy may be given after surgery or after radiotherapy. The doctor may recommend either one single drug or a combination of drugs such as:
Lomustine + Procarbazine + Vincristine: These three drugs are combined and given along with radiotherapy. This drug can increase the brain tumor survival rate of the patient, even if he is in stage 3 of brain cancer stages.
Radiotherapy+ Low Dose Temodar: This combination works well for high-grade brain tumors. The treatment is usually given monthly for about 6 months to a year.
Carmustine Drug: This drug is given in a special way called Gliadel wafers. The implant is placed in the area where the tumor has been evacuated.
The patient needs to go for an MRI brain scan once every two to three months. This will monitor the growth of cancer tumors. Duration of the MRI depends on the grade of the tumor. In case the tumor is found to be growing, alternate treatments would be recommended. 
Tumor Treating Fields / Alternating Electric Field Therapy
Being a non-invasive therapy, this treatment uses a portable device to obstruct the part of the cell which is responsible for the growth and spreading of tumor cells. This electrode device, which is called Optune, is placed outside the patient's head, after which it generates an electric field.
This treatment works well for those who have been newly diagnosed with a high-grade brain tumor or recurring glioblastoma. It improves the survival rate of the patient, just as in chemotherapy.
The approximate cost of chemotherapy per cycle is USD 450.
Targeted Therapy
The focus of this treatment is on the particular gene, protein or tissue that is responsible for stimulating the growth and survival of the tumor. It works by blocking the growth and spreading of the tumor cells. The side effects of brain cancer treatment would be minimal with this option.
Radiotherapy for Brain Tumor
Radiotherapy for brain tumor, also known as radiotherapy, is another of the cures for brain cancer. This treatment destroys the cancerous cells in the brain by emitting high energized x-rays. It is usually recommended after surgery or along with chemotherapy. External beam radiotherapy is provided to treat a brain tumor, wherein the brain tumor radiation is given from outside the body, with the help of a machine. The various types of external beam radiotherapy used in the treatment of brain tumor include:
Proton therapy

: This therapy uses protons instead of x-rays to destroy tumor cells. It works well in cases where less radiation is required due to the location of the tumor.
Stereotactic radiotherapy: This is recommended in cases where the tumor is located in one area of the brain. This involves the projection of high doses of radiation directly on to the tumor, without harming healthy tissues. This uses advanced technology equipment such as Modified linear accelerator machine, CyberKnife and Gamma knife.

3D-CRT

: In this, a 3D model of the tumor is made to appear on the computer screen through CT or MRI scan images. This helps in directing the radiation beam to target the tumor while protecting the healthy tissues from high energized radiotherapy.
The type of radiation given depends on the size of the tumor and its location.
The approximate cost of Radiotherapy for brain tumor is USD 2500 – 5000
What are the Side Effects & Risks of Brain Tumor Surgery? 
Most brain tumor symptoms and side effects are temporary and can be successfully controlled through proper guidance and follow-up care.
Brain tumor surgery includes some side effects like pain, fatigue, poor appetite, bruising near the operated area, numbness, bleeding and swelling near the surgical area.
Brain tumor radiation/radiotherapy involves short-term side effects like skin reactions, hair loss, stomach upset, fatigue, and some changes in the neurological system.
Chemotherapy side effects include vomiting, fatigue, loss of appetite, hair loss and diarrhoea.
A headache, fatigue and a few minimal neurological effects are the side effects associated with Targeted therapy.
How to Prepare  for Brain Tumor Treatment?
The doctor needs to find out the stage of brain cancer you are in, the type of tumor that exists in your brain and how the cancerous cells have spread to the other areas of your brain/body, before suggesting a suitable treatment plan. Therefore, you may be advised a few tests such as:
MRI
CT scan
PET-CT scan
Molecular testing
Spinal Tap
You may have to stay away from alcohol and tobacco much before the treatment begins. Your doctor may also restrict you from taking any kind of blood thinner, vitamin or aspirin capsules during the treatment.
What do I expect After Brain Tumor Treatment?
It takes a while to recover from the brain tumor treatment. You may need to be rehabilitated through physical therapy, occupational therapy, and speech therapy before you can resume your normal lifestyle. You have to go for follow-up care as per the instructions of your doctor so that your condition can be monitored thoroughly.
Results of Brain Tumor Treatment: 
It can be quite challenging to treat brain tumors successfully unless they are diagnosed at very early stages. Brain tumor survival rate is highest at the beginning. Therefore, don't ignore the brain tumor warning signs. The body's blood-brain barrier can stop the chemotherapy drugs from working the way they are expected to. Surgery may not be an option for tumors that are difficult to access. There may be a presence of cancerous cells despite the removal of the tumor, which may not be visible during image tests. There are possibilities for healthy cells getting damaged by radiation therapy.
Nevertheless, research has made advancements through which it is now possible to lengthen the lifespans of patients with brain tumors. The surgeries are getting refined and radiation therapies are being delivered in a much more targeted manner to improve the quality of life of people diagnosed with brain tumors.
Brain Tumor Treatment at Treatment Possible 
At Treatment Possible, our main objective is to provide the best options for brain tumor cost in India. Thus, we recognize the significance of excellent health and well being of our guests by preferring association with the Top 10 neurosurgeon in India. We encourage you to educate yourself about the cost of brain tumor surgery in India and then make an informed decision. 
You can also send your medical reports for treatment with the best neurosurgery hospital in India to care@treatmentpossible.com for free opinions and suggestions from Top Neuro Surgeon in India with the hassle-free setup of post-operative recovery care, medical travel & stay during the Medical treatment. No matter what the health condition, you always get good healthcare options and cost advantage from Treatment Possible.
From Treatment To Recovery, We Are Always There With You!

Medical Visa Letter
We provide a Medical visa letter for which we require the scanned passport copies of the patient and attendant.
Arrange An Appointment With A Surgeon
We arrange for the appointment with the surgeon, confirm for the hospital room and operation theatre (if required)
Post Surgery Follow Up
We help you to fix your telephonic appointment for future follow-ups
Complimentary Pickup
We arrange for complimentary pickup and drop services from the airport.

All The Necessary Arrangements
We arrange for hospital admission, forex exchange, sim card and local assistance
No Need To Worry About Essential Expenses!
We help in sorting out the hospital bill, return ticket, medicines and other essential purchases.
Best Hospitals For Brain Tumor Surgery In India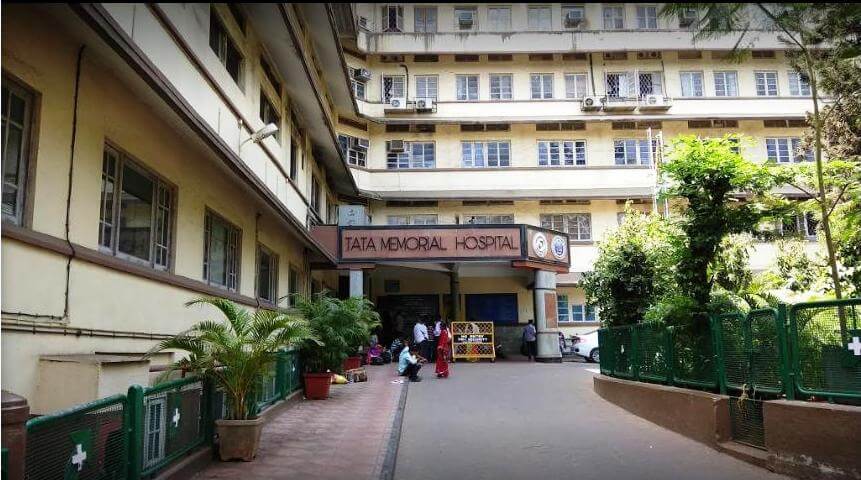 Tata Memorial Hospital - Mumbai
Tata Memorial Centre (TMC) is a comprehensive tertiary care centre for cancer in India. Established by the House of Tatas in the year 1941. It is a specialist cancer treatment and research centre, closely associated with the Advanced Centre for Treatment, Research and Education in Cancer (ACTREC). The Centre is the national comprehensive cancer centre for the prevention, treatment, education and research in cancer and is recognized as one of the leading cancer centres in this part of the world.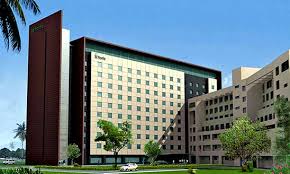 Fortis Hospitals Mulund, Mumbai
Fortis Hospital, Mulund is a 5 times JCI accredited, 315-bed multi-speciality tertiary care hospital providing a range of diagnostic and treatment services.This hospital has achieved three times JCI accreditation (quality as per international standards) and NABH Accreditation (quality standards specified across India) and the best Orthopaedic Hospital (Indian Healthcare Awards 2011).
Medanta The Medicity Hospital, Gurgaoni
Medanta – The Medicity Hospital, Gurgaon is established in 2008 and it is a NABH and JCI accredited facility. Medanta Hospital was founded by a renowned Cardiovascular and Cardiothoracic surgeon, Dr. Naresh Trehan and is both NABH and NABL accredited. It is the first hospital in the country that offers Robotic Surgeries in Cardiology, Urology and Gynaecology. It is also Awarded as the Best Multispecialty Hospital by Asia's First Bloodless Bone Marrow Transplant HealthCare Global Enterprises (HCG) in 2010.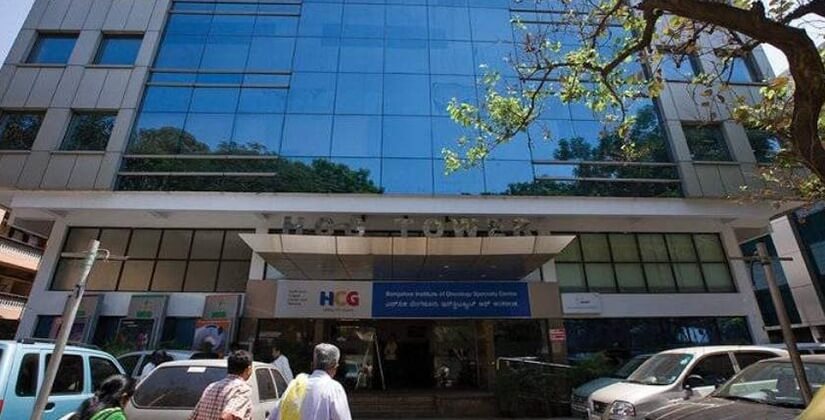 Healthcare Global Enterprises Ltd (HCG), Bangalore:
Medanta – The Medicity Hospital, Gurgaon is established in 2008 and it is a NABH and JCI accredited facility. Medanta Hospital was founded by a renowned Cardiovascular and Cardiothoracic surgeon, Dr. Naresh Trehan and is both NABH and NABL accredited. It is the first hospital in the country that offers Robotic Surgeries in Cardiology, Urology and Gynaecology. It is also Awarded as the Best Multispecialty Hospital by Asia's First Bloodless Bone Marrow Transplant HealthCare Global Enterprises (HCG) in 2010.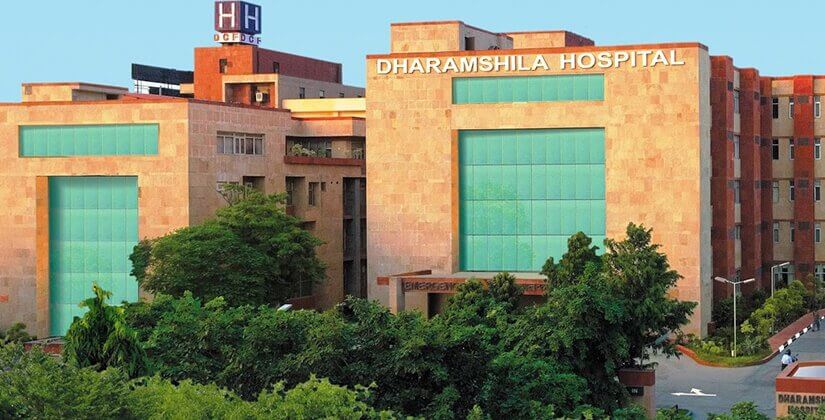 Dharamshila Narayana Superspeciality Hospital, Delhi:
Dharamshila Narayana Superspeciality Hospital was established in 1994 and this is accredited by NABH and NABL. It is India's first and world′s 11th hospital which has performed Haploidentical Bone Marrow Transplantation in an adult sickle cell disease patient. This is the Only hospital in Delhi that offers Third Generation Radiation Technology i.e. Elekta Synergy VMAT with IMRT, IGRT, SBRT and SRS / SRT and Respiratory Gating Capabilities and best Treatment Planning systems like Monaco, CMSxi0, ERGO++ and Plato.
---
Frequently Asked Questions:
What are the screening tests for a brain tumor?
CT or MRI can help to find out the Swelling of the optic nerves during an eye test, which can indicate that a brain tumor is present.
Can brain tumor be cured?
Grade I brain tumors could be cured when the tumor is completely removed by surgery.
In Grade II, the tumor cells spread more slowly than grade III and IV tumor cells.
Grade III may spread into nearby tissue and may be recurrent.
Grade IV may spread into nearby tissue and the tumors usually cannot be cured.
Is brain tumor life-threatening?
Brain tumors could be cancerous or noncancerous. When noncancerous or cancerous tumors grow, they could cause the pressure inside your skull to increase. This causes brain damage, and it can be life-threatening.
Do all brain tumors need surgery?
A benign tumor does not always need to be removed whereas malignant tumor requires surgery and radiation. Brain surgery is a procedure that has risks and benefits.
What is the difference between a non-cancerous brain tumor and cancerous brain tumor?
Abnormal growths of cells in the brain are called Brain tumors, but not all brain tumors are cancerous.
Cancerous tumors can grow and spread aggressively and destroy the healthy cells whereas noncancerous brain tumor can grow big but it does not spread.
What are the symptoms of a brain tumor headache?
The symptoms of brain tumor headache are severe Headaches that wake you up at night. Headache pain that changes as you change positions. Headaches that last for days. Headache pain that doesn't respond to pain relievers.
How long can you live with a non-cancerous brain tumor?
Survival in children for all brain tumors is about 70%; long-term side effects could be vision problems, speech problems, decreased strength.
Survival in adults (age group 20 years – 44 years) for all brain tumors is about five-years at a 50% rate.
Are there any symptoms for an early-stage brain tumor?
In the early stages of a brain tumor there are no noticeable symptoms but when it grows bigger it puts pressure on the nerves which cause headaches.
---